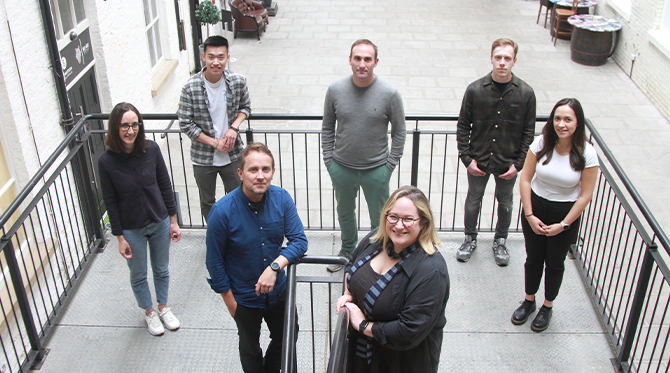 MMAS is a Belfast based, design focused architecture and urbanism practice founded in 2013 by Garreth McMahon and Fearghal Murray, with Aoife McGee joining as Director in 2021. We have ongoing projects throughout Ireland ranging from one–off houses to larger commercial buildings, housing developments, community buildings, urban realm works and urban regeneration studies. We were selected by the RIBA in 2017 as one of only nine UK wide 'Role Model Practices' and have been acknowledged both locally and nationally as having an innovative and creative approach to architecture and urbanism, with the practice featured in the 2021 RIBA Journal 'Future Winners' edition.
Client and community focused, we aspire to make buildings, spaces and places that are contextually sensitive and socially conscious. Our work is derived from its place and its past, yet appropriate to its time and reflective of wider cultural influences. We work with critical rigour to develop rational, innovative and crafted projects that efficiently and cost–effectively enhance the quality of everyday life.
We bring wide–ranging and award–winning collective experience and a unique set of skills and expertise, gained whilst working for several highly reputable local and European architecture and urbanism practices.
Each project begins with clearly defined aspirations developed through in–depth discussions. Our aim is to build strong professional relationships with each client based on clarity and trust to ensure a feeling of ownership and understanding of the process and the solution.
The design develops through contextual analysis and research to gain an understanding of the nuances and characteristics of a particular place. Conceptual ideas emerge through hand sketching, physical and digital modelling and visualization. We have a particular interest in the emotional, nostalgic and experiential aspects of space and materials. Our process involves a rigorous concern for efficiency, focusing on the economical and environmental impact of a building over it's life cycle.
Our ultimate ambition is to contribute to a higher standard of built environment and place–making within our urban and rural surroundings.
Current team members (left to right above): Nadine Graham, Jonathan Yau, Fearghal Murray, Garreth McMahon, Aoife McGee, Christopher McKernan, Kayla Enos, Roger Bonnar (missing).
Photo Credit: Ian Campbell